COME CHECK OUT OUR DOG BAKERY!
Pamper your pups with their favorite GiggyBites flavor! We have the right size (Training Bits through Large) for your Teacup Poodle or Bull Mastiff! Treats are available in quarter, half, and whole pound bags. Choose from: Bacon & Cheese | Oatmeal Peanut Butter | Crunchy Chicken• |Veggie Pizza |Carrot Crisp
Just like their owners, dogs can benefit from treats that address specific health concerns or diet restrictions. We've developed uniquely nutritional treats in response to special dietary needs. If your veterinarian has recommended a restricted diet for your dog, try these treats to complement that regimen: Salmon Skin Coat Care (wheat-free) |Apple Ginger Spice (low fat /wheat-free)
Having trouble predicting your pooch's favorite flavor? Why not try a Sampler Pack? We offer two- ounces each of our four best sellers to give you the opportunity to taste them all.
Looking for the perfect party favor for your puppy parties? Check out our Puppy Pops. Our best selling Oatmeal Peanut Butter Treat baked onto a crunchy rawhide stick. Topped with icing to make it an extra special celebration! Check back often for our Puppy Pop selections.
Need to grab a gift for the holidays, obedience graduation, gifts, new puppy, or any other reason? Take a look at our Gift Baskets. We include our custom-crafted treats or Puppy Pops, as well as other popular dog goodies. We''re happy to make one, especially for your occasion. Just let us know what you need. Send us an email or fill out the Contact page.
Happy Birthday!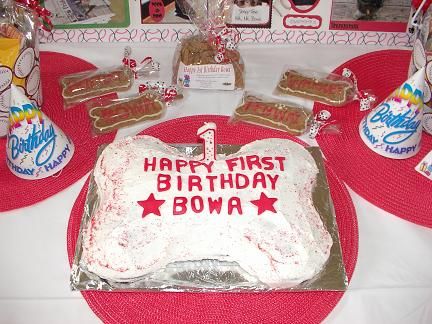 We always have peanut butter pup cakes & liver muffins available at the bakery but if you are having a party you might want something bigger! Giggy's Party Packages help you to cover your bases. The It's My Bone Package includes six individual bone cakes so that every dog gets his own cake! Thinking more traditional? Bone cakes are available in small and large. Want to send your guests home with a goodie bag? We can custom label treats to celebrate your dog's day. Wheat Free cakes are available, too. Send us an email or give us a call to discuss the possibilities for your pup's party.
Custom Baked
Get your custom baked and labeled especially for you! Our Custom Singles are ideal for agility trial Q-Cookies, puppy party favors, pet sitter thank you gifts, obedience graduation, and holiday vet & groomer treats. They will leave a lasting impression for an occasion where you want to leave a message with a treat. We'll cut and bake the shape you request and print your labels with a message for you. We offer our Custom Singles in a 10 Pack or case of 100.
Wholesale
Get your GiggyBites wholesale! Retailers if you would like to add our line of treats to your location please give us a call or send us an email and we will be happy to get you started with our wholesale program.
Come visit our pet supply store in Chadds Ford, PA specializing in quality food, treats, and supplies for cats and dogs.