Pet Nutrition Advice for a Healthy Life
Our pets' daily diet is very important to their general wellness. At Giggy Bites Bakery & MarketPlace, our animal nutrition advice in Chadds Ford aims to empower pet lovers to provide their pets with a high-quality diet during the course of each period of life. Proper nutrition can help with many medical issues including; food intolerances, pet food allergies, excessive weight gain or weight loss, nutritional deficiencies, pet diabetes, skin and coat ailments, renal system disease, irritable bowel syndrome, and poor immune response. Nutritional demands for dogs and kitties vary because of many factors including life stage, size, breed, exercise levels, overall health, and more, as a result, a one-size-fits-all approach to nutrition will not do the job. Our staff can advise you on which food choices will be suitable based on your animal's needs, amount to feed, and what to look out for on animal food labels. Phone us to set up a nutrition consultation for your pet.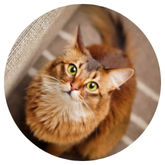 Cat Nutrition
Cat nutrition is closely connected to overall wellness, and a cat's diet can even help improve a variety of issues including common allergies, hyperparathyroidism, and food intolerances. Obesity is also a growing issue and overweight cats are at risk for a whole multitude of problems such as arthritis, diabetes, hypertension, breathing problems, renal disease, heart disease, and a life expectancy lessened by as much as 20%. Kitties are obligate carnivores which means that the best diet for cats is one high in protein and low in carbohydrates. No matter if your cat is dealing with a weight problem or requires a unique diet in conjunction with healthcare maintenance and treatment, our staff will counsel you on the various nutritional options that are available to cat parents. Don't be reluctant to get in touch with us if you have any questions about finding the purrrrrrfect cat diet.
Come visit our pet supply store in Chadds Ford, PA specializing in quality food, treats, and supplies for cats and dogs.